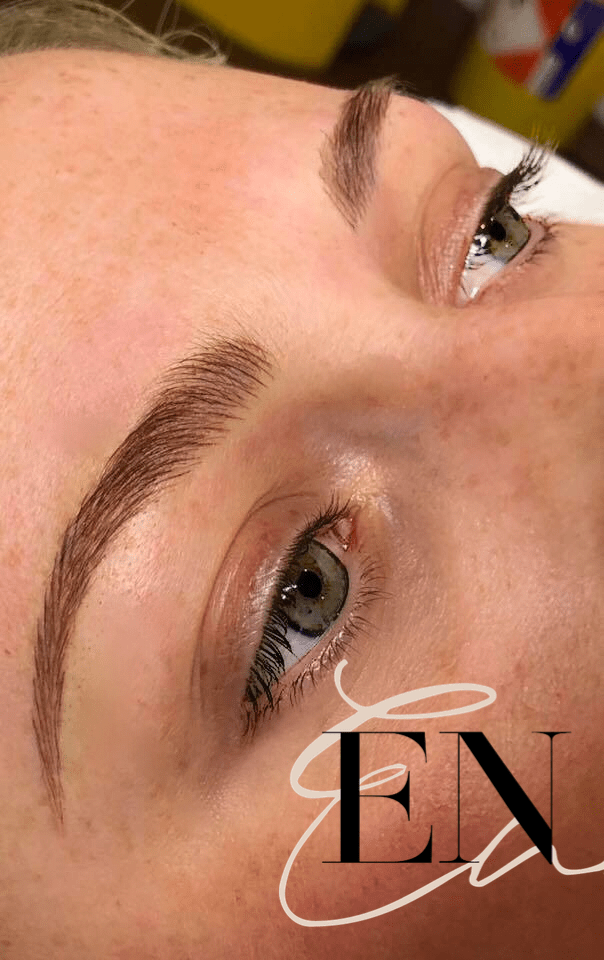 Welcome to Microblading at Enhance. The following information tells you all you need to know about this innovative new treatment for brows.
Based on an ancient Japanese tattooing method, Microblading is perfect for brows that need enhancing. It gives a crisp much more natural look as very fine hair strokes are created. It is suitable for those with brows that have been really over plucked and will never grow back, those who have gaps in their brows, short brows and for those whose brows just really need a good makeover and enhancing.
The overall result of Microblading gives the whole brow area a real lift and a more general youthful look to the face ~ and how wonderful to wake up in the morning too and your brows are there! Clients of mine have had friends ask if they'd had Botox! They haven't ~ they've just got perfect brows!
---
Q: So what is Microblading?
A: Microblading is a semi-permanent make-up procedure that is done to dramatically correct or completely reconstruct lost eyebrows. It is performed manually with a special pen that has a sterile 'blade' which deposits colour pigments into the basal membrane which divides the epidermis from the dermis layer of the skin. This techniques is more superficial than general tattooing so there is no danger of a colour bleed under the skin. Also the blade of the Microblading pen is 3x thinner than tattooing needles. The Microblading technique creates individual hair strokes that are much more natural looking and defined and the pigments I use blend perfectly into natural brow. The results give a natural, flawless, fuller looking brow. The Microblading treatment is done in 2 stages ~ 6 weeks apart.
Q: Is Microblading suitable for everyone?
A: Microblading is suitable for most but NOT suitable for those with ~ EXCESSIVE OILY SKIN/MOLES/PROBLEMS WITH VEINS/ACNE & PROBLEM SKINS/KERATOSIS/DIABETES/DERMATITIS/VERY DRY & PEELING SKIN/THOSE ON WARFARIN OR ANY OTHER BLOOD CLOTTING MEDICINES/PREGNANT & BREAST FEEDING MOTHERS
Q: How long does it last?
A: The results last anywhere between 18-24 months depending on skin type. Usually a touch up is performed after 12 months of required to retain the shape and saturation of the pigment.
Q: Does it hurt?
A: Microblading feels like scratching on the skin and on a scale of 1-10 it would rate about 4. It is important to know that numbing cream can be applied to the brow area 30 minutes before treatment.
Q: What happens before I have my treatment?
A: I will book you in for a consultation first so we can meet and I can take a look at your brows and discuss what brow shape, colour etc would be suitable for you. It is advisable to have a HD brow treatment done first which will enhance and tidy up your own brows prior to the treatment ~ but this is entirely optional. A pre-procedure consent form will be emailed/given to you and this must be completely filled in, signed and brought back with you on the day of your Microbalding. In some cases a doctors medical consent may be required too before going ahead with your treatment. A pigment patch test will be given to you (for you to put on the top of your arm) and this must be done 24 hours before Microblading. Also ~ no alcohol 24 hours before your treatment!!!! Alcohol thins the blood and therefore will be harder for the pigment to maintain in the skin.
Q: What happens on the day of my treatment?
A: First of all I want you to know that you will be coming in to a completely safe, clean environment. Enhance is fully council approved and registered & I am fully trained and insured so you are in very safe hands.
The treatment starts with a look through your consent form, a discussion about your brows and the look you wish to achieve. Numbing cream is applied to the brow area. You can enjoy a cup of coffee/tea, read a magazine whilst the cream takes effect for 30 minutes. You'll be asked to put on a beauty cap to keep your hair well out of the way, you then lie down flat on the couch and just relax. I now spend time looking at your bone structure, measuring and creating your perfect brow shape before I carefully start to Microblade the fine hairstrokes in.
Q: What happens after?
A: 30 minutes after the treatment cooled boiled water needs to be applied gently to your newly formed brows to remove excessive lymph ~ this will start the healing process. This is then repeated 1st thing the next morning. The brows are then left to dry heal naturally. The next part you will read is the most important part for your new Microbladed brows. Please read carefully ~ it's your aftercare.
AFTERCARE
The next 6 weeks is the most important part of the treatment where your brows begin to heal and take on their new shape and colour. The aftercare which is now down to you must be strictly adhered to if you wish to keep your brows perfect:~
YOU MUST NOT TOUCH YOUR BROWS AT ALL
YOU MUST NOT PICK AT THEM ~ NATURALLY YOUR NEWLY MICROBLADED BROWS WILL START TO FORM TINY LITTLE SCABS (like a tattoo does) AS THE PIGMENT & COLOUR BEGINS TO EMERGE & HEAL. BY PICKING & SCRATCHING YOUR BROWS YOU WILL SIMPLY JUST PICK OUT THE PIGMENT LEAVING THEM UNEVEN AND LEAD TO POSSIBLE INFECTION.
THEN FOR THE NEXT 2 WEEKS (STRAIGHT AFTER YOUR TREATMENT) YOU MUST ADHERE TO THE FOLLOWING ~

NO MAKE UP ON THE BROWS AT ALL ~ AROUND THEM YES BUT ON THEM NO
NO SWIMMING
NO SAUNAS
NO HEAVY GYM SESSIONS AS SWEATING WILL CAUSE THE PIGMENT TO LIFT OUT OF THE SKIN
NO SUNBEDS
NO SELF TANNING
NO PICKING OR FIDDLING WITH YOUR NEW BROWS!!!
I AM STRICT AREN'T I!!! But it's worth it girls
Q:What happens after the 6 weeks?
A: 6 weeks after your initial treatment you will come back for your second treatment ~ the full 6 week wait is vital as this is the full healing time for your brows. Microblading is always done in 2 parts and this is just as important as the first treatment. Here I assess your brows to see how well the pigment has taken and how well they've been looked after!! I then do the first treatment again ~ numbing cream, measuring, Microblading etc. You may wish this time to have more shape added, go a deeper colour, it's entirely up to you. But you will end this treatment with fabulous brows!! This second part is included within the whole price so you do not pay again. However, if you do not return for your 2nd treatment within the 6 week allotted time scale then an additional stand alone fee of £75 will incur.
Q: How much does it cost?
A: Microblading at Enhance is £325. This includes your consultation, patch testing, 1st and 2nd treatments and aftercare. A non-refundable £50 deposit is paid on the day of your consultation to secure your booking/last-minute cancellation fee (less than 24 hours). The balance is then paid in full after your 1st treatment has been done.
---
To book in for Microblading or ask any questions regarding Microblading you can email me: sue@enhancebrowsandbeauty.co.uk or call/text me on 07712 526651 x